Hifi Tube Amplifier PP10
Audio hifi ultra linear tube amplifier DIMD PP10 offers more than meets the eye.
It is constructed without the use of any printed circuit boards. All the components are hand wired onto the tube sockets to achieve the shortest signal path possible. Excellent spatiality and detail reproduction.
Find out more

→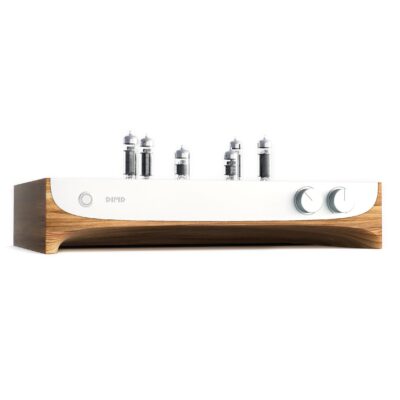 Find out more

→
Length

43 cm,
Width

28 cm,
Height

16 cm
Proportions
Product description
Hifi Tube Amplifier PP10
We have not chosen this amplifier to accompany our speakers by accident. Its construction goes hand in hand with our philosophy of using the minimum of high quality components. It is a top-notch amplifier with enough power reserve for very sensitive stereo speakers like our Evolution or Euphoria.
Parameters
Technical Specification

| | |
| --- | --- |
| Operating class: | AB |
| Output topology: | Push-Pull, UL |
| Output tubes: | 4x EL84 |
| Driver tubes: | 2x ECC83 |
| Nominal speaker impedance: | 6 or 8 Ohm |
| Maximum power: | 2x 10 W |
| Inputs: | 4 RCA pairs |
| Input sensitivity: | 420 mV |
| THD @ 1 W (1 kHz): | <0.1 % |
| THD @ 10 W (1 kHz): | <0.3 % |
Specifics
High Grade Components
Only the very best high-performance components are used in the amplifier. Polypropylene coupling capacitors paired with point-to-point hand wiring ensure very low total harmonic distortion. Every musical instrument in your recording will not only make its presence felt, but sound even truer to life. In DIMD PP10, only high tolerance metal film resistors are used. You get low noise level and all the benefits of a precisely balanced stereo amplifier.
Point-to-point Construction
DIMD PP10 is expertly crafted and engineered to the highest standards. Using precision point-to-point hand wiring, the shortest signal and ground return paths are achieved. The wiring also accounts for the extremely low noise level. The PP10 integrated amplifier uses push-pull circuit topology and operates in class AB. Excellent harmonic and intermodular distortion figures are attained.
Precise Adjustment
Engineered around point-to-point construction with high grade components, the DIMD PP10 would exhibit remarkable properties even with no overall negative feedback at all. Therefore, by applying delicate feedback of just 6 dB, all the main parameters of the tube amplifier appear precisely adjusted. The result? A well-balanced frequency response, even lower THD and an optimal damping factor.
Matched Tubes
When it comes to sound quality, no matter how you measure it—be it clarity, accuracy, purity—tubes matter. In the PP10, only a matched pair of the well-known ECC83 double triodes in preamp and a matched quartet of EL84 pentodes in the power stage are used. Each pair and quartet is therefore matched especially for the DIMD PP10.
What you may want to know
FAQ
Is the given power of 10 W really sufficient?
For our highly sensitive speaker systems, the power of 10 W is definitely sufficient. Loud listening is achievable at the power level of 0.8-1 W already. For speaker systems with lower sensitivity, this power would probably not be enough.
Sign up
Newsletter
We'll let you know about our participation in audio shows, new reviews and products, new places to listen to your speakers, or new posts on our blog. We won't spam you.