PrimaLuna EVO200 – Hifi Pig
"I had much enjoyment playing with the Evo200. This amplifier offers a detailed and fast sound with excellent mid-band and secure top with a beautiful patina that simply makes music human again . . . PL are renowned for value for money and this product carries this forward . . . this is a lot of tubes and music."
PrimaLuna Evo200 Integrated Amplifier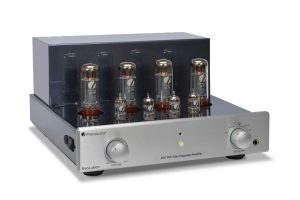 I first got my hands on a PrimaLuna amplifier when I was temping at a HiFi shop in Bedfordshire in the noughties. I was immediately taken in by the lifelike sound produced at a lifelike price, initially believing they were Italian due to the name, meaning "First Moon". The company is actually from the Netherlands, launching its first valve amplifier back in 2003. Company founder Herman van den Dungen not so long ago decided to create a whole new range of tube amps and so came up with the 13 model 'Evolution' series. Each of the four "levels" – the entry level 100, 200, 300, and 400 – include an integrated, pre-amplifier and power amplifier. For you mathematicians out there that would quite rightly equate to 12 products, so they also have a valve DAC making up the 13, the world's first tube-based data clocking device.
PrimaLuna perhaps is best known for introducing "Adaptive AutoBias". This continually monitors the tubes and makes adjustments in real time, by addressing what they call "tube pinch off" at higher volumes, and thereby reducing distortion and extending tube life. This means the tubes always perform at their best and you don't have to worry about setting the bias. PrimaLuna's system needs to be distinguished from regular "cathode bias" which reduces power to the amp and runs the tubes hard thereby reducing their life. PL's valves work with less stress meaning they last longer and don't distort. Adaptive AutoBias also allows the flexibility of substituting other valves which means a cheap upgrade, a feature in all their amplifiers.
Sign up
Newsletter
We'll let you know about our participation in audio shows, new reviews and products, new places to listen to your speakers, or new posts on our blog. We won't spam you.