Tube Amplifier PrimaLuna EVO200
Offers excellent value for money. This acclaimed amplifier provides superior sound balance, excellent spatiality and clarity.
Let your ears be the judge.
Find out more

→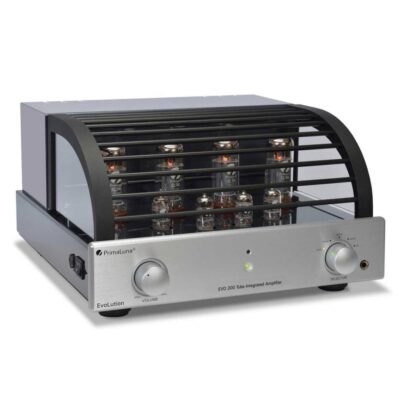 Find out more

→
Length

35 cm,
Width

41 cm,
Height

21 cm
Proportions
Product description
Tube Amplifier PrimaLuna EVO200
The PrimaLuna brand presents a new series of EVO tube amplifiers. They are characterised by excellent price-quality ratio of both the workmanship and, above all, sound quality.
Parameters
General Parameters

| | |
| --- | --- |
| Remote control: | Yes |
| Maximum output power: | 44 W / channel |
| Frequency response: | 10 Hz to 65 kHz +-1 dB |
| THD harmonic distortion: | 0.2 % (1 W) |
| Signal-to-noise ratio: | 86 dB |
| Input impedance: | 100 kOhm |
Other Parameters

| | |
| --- | --- |
| Total power consumption: | 280 W |
| Weight: | 23 kg |
| Dimensions: | 405 x 365 x 205 mm |
| Weight: | 2x 45 kg |
| Inputs: | 4 x RCA |
| Outputs: | 4.8 Ohm, headphones |
| Tubes: | 4x EL34, 4x 12AU7 |
Specifics
Adaptive AutoBias ™
Adaptive AutoBias monitors and continuously adjusts the operating point of the tubes. It increases performance by dramatically reducing distortion and extends the life of the tubes. Adaptive autobias actually improves the overall sound quality. Between 12 and 30 W, the measured level of distortion decreases by more than 40 %. In addition, the tubes do not have to be paired.
The new generation Adaptive Auto Bias ™ circuit comes with a new extensive output stage protection circuit with relay + B to protect the output transformers, resistors and high voltage power supply in the event of a tube failure. This circuit is protected by an easily accessible fuse located next to the main switch.

Bias switch
The integrated tube amplifiers of the EVO series are equipped with a bias level switch for certain types of tubes. Low Bias is for EL34s (or equivalent tubes) and High Bias for KT88s, KT120s or KT150s (or equivalent tubes). When replacing the tube, you must be concerned about manually calibrating the operating point. Simply toggle the bias switch (at a reduced volume).
If you use the "wrong" bias setting for the tubes used, you don't have to worry about destroying the device. You just didn't choose the "optimal" bias setting.
Ultra-linear / Triode mode
In addition, the EVO 300 and 400 amplifiers provide the ability to switch between Ultralinear and Triode outputs using the remote control. You can switch between modes even when the amplifier is in operation. The EVO 300 and 400 amplifiers always start in ultralinear mode after switching on. There are two LEDs on the front panel, which indicate the mode in which the amplifier operates: Red - ultralinear; Green - triode.
Ultralinear mode vs. triode mode
Ultralinear mode has a stronger effect on the speakers, the sound is precise, dynamic and with great internal details.
The nature of the triode can best be described as warmer at the high and low frequencies, with the midrange being slightly more pronounced. The sound is more relaxed. The output power of the amplifier in Triode mode drops by about half compared to Ultralinear.
High End Speakers Evolution
€ 11 200
Our high end speakers Evolution were created with the intent of redefining what "faithful stereo sound" means. Their sound is characterized by full details, precise instrument localization and spatiality. They contain only one high sensitivity driver, complemented by a unique horn cabinet.
Inspired by the past, formed by the present.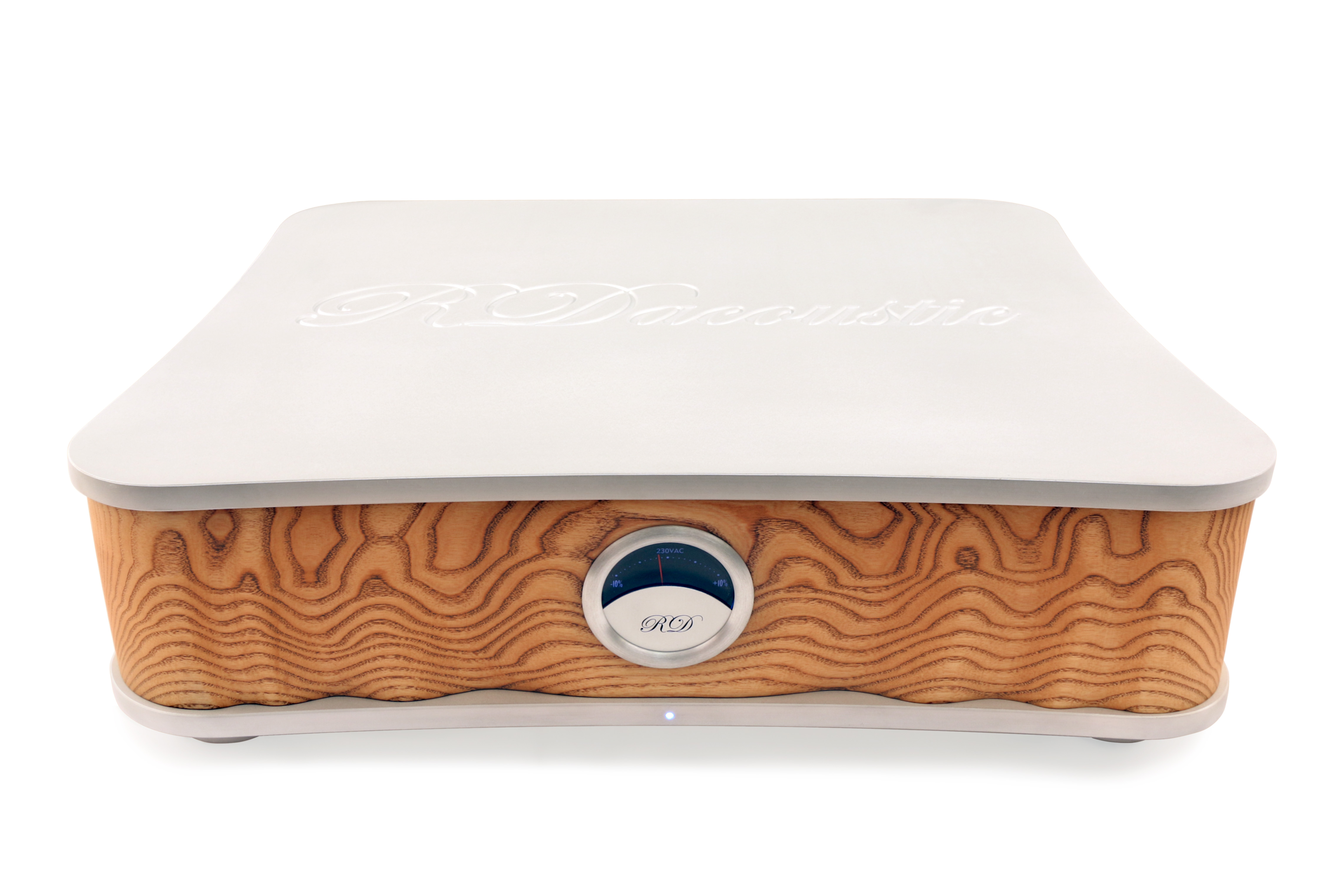 RD EMI Neutralizer Power Filter
€ 3 960
Is a complex power filter with integrated surge protection. The filter increases the distance of background noise from useful signal, making the sound more crystal-like, with more details. Filter omnipresent high frequency interference effectively and supply your sensitive audio components with clear power!
RD Power Filter
€ 640
Is a unique power filter combined with surge protection. This article from RDacoustic's workshop effectively protects your audio appliances and other devices against overvoltage (lightning strikes and other causes) and at the same time cleans the power supply from unwanted electromagnetic interference, resulting in an improved sound quality of your audio devices.
Protect your devices the pure way.
Associated posts
From our blog
Sign up
Newsletter
We'll let you know about our participation in audio shows, new reviews and products, new places to listen to your speakers, or new posts on our blog. We won't spam you.