RD EMI Neutralizer – HifiVoice test
Basically, the first few tones were enough to make it clear that the isolating transformers work as they should and that the filter is not just an aesthetic matter. The bass is extremely firm and concrete.
Review audio filter RD EMI Neutralizer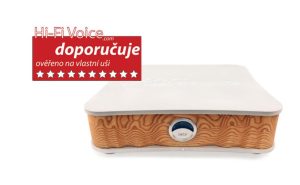 The "Rožnov brand RDacoustic"… ", as its representatives say, graze in reproduction for the fineness of detail and overall immediacy. However, the power filter has also found its way into the production portfolio most recently, which makes sense if we think about the increasingly polluted electricity distribution in ordinary households (which of course has an effect on the quality of reproduction). In addition, when you learn that the brand's designer has been working for many years in the electrical field directly focused on the design of industrial mains filters, everything will fall into place. "
Read the full HifiVoice test.
Sign up
Newsletter
We'll let you know about our participation in audio shows, new reviews and products, new places to listen to your speakers, or new posts on our blog. We won't spam you.